Do you want to

feel more

confident and
happy in your body

? Feel

healthier

,

vital

and

have more energy

?
You can Find your

Happy Shape
The modern diet and lifestyle can be cruel!
You have a feeling of insecurity and are self conscious about you body.
It's not your fault.
The fast-paced busy lifestyle can make it difficult to find time to focus on yourself
you can find your Happy Shape.
And we can help guide you...
Just like you, we wanted to feel

happier

,

healthier

and

proud

in our own skin.
Together with a group of experts,

we bring you...
THE

HAPPY SHAPE

CHALLENGE
Eat Delicious Food to Find Your Happy Shape
Sign Up to The Happy Shape Challenge

Get Started on Week 1's Plan

Learn how to nourish and fuel your body with the right things to eat
You have nothing to lose except perhaps a few pounds of weight!!

We commit to helping you to turn your health around by focusing on the pillars of your health.
If you're not 100% satisfied with the course after 7 days, we will gladly refund you what you paid for it.
In addition to the getting access to the The Happy Shape Challenge and it's great content, you'll also get...
Access to 300+ additional Happy Pear Recipes

A library of home workouts, exercises and meditations

An invitation to Live Discussions with Subject Matter Experts

Daily live lifestyle sessions such as yoga, morning stretches and mindfulness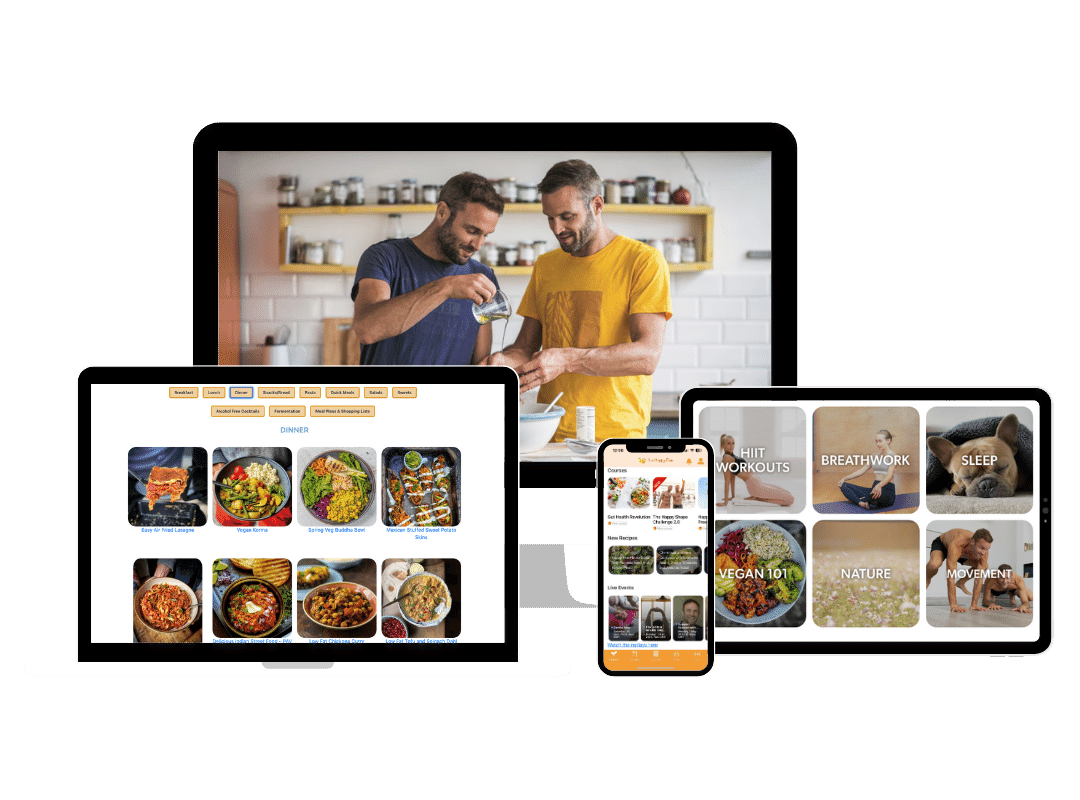 Are you ready for The Happy Shape Challenge?
We can't wait to see you inside!
For only €99 get instant access to:
The Happy Shape Challenge with Dr. Sue Kenneally, Rosie Martin, Zanna Van Dijk and The Happy Pear (value = €99)

Over 300 Plant Based Recipes (value = €60)

Access to Live Events with Subject Matter Experts (value = €400)

Daily Lifestyle Sessions (value = €250)

Access to a library of exercises, workouts and meditations (value = €150)

Total Value = €939

7 DAY MONEY BACK GUARANTEE
Feel proud and happier in your skin

Be supported to reach your Happy Shape

Learn to cook delicious Plant Based Meals for you and your family.

Find your tribe to support you on this new health journey.
DON'T WAIT ANY LONGER
A
miraculous transformation

awaits
Self Conscious and insecure about your shape

Having a nagging feeling to take action and do something about it
Feeling happier, healthier and more confident in your body

Feeling empowered, learning to cook and adopting healthy habits
Let us tell you about

Jennifer...
I have had such a great time learning to follow a true vegan, unprocessed diet. I loved how the lads called it a culinary adventure as that is what it was. The course had easy to follow recipes, using vegetables that had honestly never used before and which made the most amazing and delicious meals. Dr. Sue was helpful and informative and the biggest change was the goal of 10,000 steps a day but I did it and enjoyed myself. I finished the 12 week journey and have lost 20lbs. I really enjoy who I have become; healthy, motivated and moving!
Frequently Asked Questions
Will I have to change my life?

You won't have to change your life completely. We don't expect you to move house or get new friends, but there may be some new lifestyle and eating habits that may be a change from your current lifestyle. But just remember, it takes only 28 days for new habits to form...

...So a lifestyle change may just around the corner!
I am very busy, how much time will this take?

The Happy Shape Course is 28 days long, and for best results we recommend completing the 28 days consecutively.

For even better results you can continue even longer - remember it only takes 28 days to form new habits.
Is the food hard to make?

No - All of the recipes have full ingredients list and step-by-step instructions. You are not expected to be a Michelin Star chef. We have had great results from even the most self-proclaimed novice cooks.
Can I eat meat on this plan?

This is a Whole Food Plant Based Eating plan, meaning there is no animal products (Meat, Dairy or Eggs) in the Meal Plans or Recipes
Do I have to start the course on the day I purchase it?

No - You will have access to the course for 1 year after purchase.
Will this work for me?

Everyone is different, so some people see results faster than others. All Happy Shape Challenge participants have reported positive results when they followed the course as outlined.
How long will I have access for?

You will have access to The Happy Shape Challenge and content for 1 year after purchase.
Find Your Happy Shape today.
Get access to:
The Happy Shape Challenge with Dr. Sue Kenneally, Rosie Martin, Zanna Van Dijk and The Happy Pear (value = €99)
Over 300 Plant Based Recipes (value = €60)
Access to Live Events with Subject Matter Experts (value = €400)
Daily Lifestyle Sessions (value = €250)
Access to a library of exercises, workouts and meditations (value = €150)